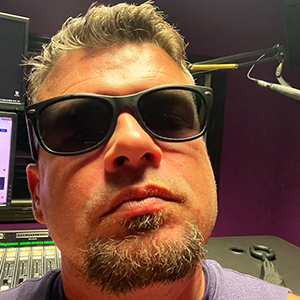 Mondays through Fridays from 3:00 p.m.-7:00 p.m. and Saturdays 10:00 a.m.-3:00 p.m.
This 20-year Triangle radio vet is Wilson born and raised, an ECU alum (c/o '02), and clothed in the finest rock history cred in the Carolinas. Raised right on a diet of The Doors, Percy Sledge, and Led Zeppelin, he grew straight into Billy Idol, Joan Jett, Judas Priest, and Iron Maiden. A fan of all things punk, he still has the Ramones t-shirt he bought at Lollapalooza 1996 at Rockingham N.C. which was in fact their final trek after a long and storied career.
If he looks and sounds somewhat familiar, he was in fact that notorious midday man of the 2000s classic rock radio era. From what he remembers, he was also the wheelman of the infamous "Cane Vic" that took a caravan of mayhem up and down the east coast during the legendary Carolina Hurricanes Stanley Cup run of 2006. The Canes won the Cup, the Caniacs flipped the Cane Vic, and now Crash has returned. A little greyer, a tad slower, he still packs a limitless history of rock, and this time, he's bringing his two kids along for the ride. Catch Crash 3:00-7:00 p.m. everyday weekday and every Saturday 10:00 a.m.-3:00 p.m.